Ai adoro quando as editoras pensam um pouco nos seus fãs, e nos deixam escolher a capa.
Na minha opinião , eu prefiro a original vermelha... masss essas BR não estão feias!
Pessoas, vamos votar na enquete da capa

O Segredo de Ella e Micha

(

The Secret of Ella and Micha

, no original), um romance new adult contemporâneo, de

Jessica Sorensen

.
E a editora

Geração Editorial ainda está dando Kits do livro para as

três melhores respostas.
Então corre e votem em qual capa vcs querem :
Basta enviar um e-mail opinando qual das capas abaixo você gosta e o porquê da escolha. Mande a sua resposta até dia 31/10 para imprensa.geracao@geracaobooks.com.br.
Confira a opção 1, 2 e 3, respectivamente, além da sinopse: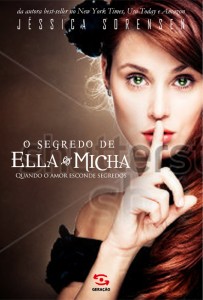 Ella e Micha são melhores amigos desde crianças, mas uma trágica noite acaba com a amizade deles e suas vidas para sempre. Ella costumava quebrar regras. Mas ela deixou tudo para trás quando ela foi para a faculdade e transformou-se em uma certinha, mantendo tudo em ordem e escondendo todos seus problemass. Mas em suas férias de verão ela retorna para casa. Ella teme tudo o que ela trabalhou tão duro para enterrar poderia ressurgir, especialmente com Micha vivendo ao lado. Se Micha tenta seduzir o seu antigo eu, ela sabe que vai ser difícil de resistir. Micha é sexy, inteligente, confiante, e consegue ficar sob a pele de Ella como ninguém pode. Ele sabe tudo sobre ela, inclusive seus segredos mais sombrios. E ele está determinado a trazer sua melhor amiga, e a garota que ele ama de volta, não importa o que custe. (Sinopse: Skoob)